Let there be light . . . And there was none!
Posted by News Express | 3 February 2020 | 1,187 times
It was October 2012, and I was in my final year in the university. In my 4th year, I had completed a workplace internship (industrial attachment) at the Power Holding Company of Nigeria.
When I returned to school, I presented my key learning experiences and achievements to my lecturers and HOD.
After asking questions to test my experience, my HOD finalised by asking my opinion on the issues with Nigeria's power sector and how we could resolve the power crisis.
This morning as I reflect on that day, it is painfully clear that if I were asked that same question today, my answers would be almost the same. At the start of the new decade, it seems like time has stood still.
Interestingly, in 2010, the "Presidential Action Committee on Power" and the "Presidential Task Force on Power", released a "Roadmap for Power Sector Reform". It targeted power output of 40,000MW by 2020. On January 01, 2020, average power supply was 3,936MW! Though installed power generation capacity is around 14,000MW, issues with gas supply, grid stability and capacity, and plant reliability mean average power generation ranges from 3,500MW to 5,000MW, with 2019 peak generation of 5,222MW.
How Did We Get Here?
Corruption has deeply hurt the electricity industry. On the surface is high level corruption with misappropriation of past funds allocated by the government.
Underneath that is crippling corruption within the power distribution companies (DISCOs). Some corrupt DISCO officials have fled with funds from customers who made the "mistake" of paying to them instead of the bank. In other cases, customers bribe the officials to overlook their electricity debts, and keep them connected to the grid. Officials have been reported to collude with customers to tamper with prepaid meters, allowing customers to cheat the DISCOs. These levels of corruption have starved the sector of much needed funds.
Another challenge – which I consider the biggest – is Liquidity. If Nigeria's on-grid power sector was combined into one private company with no government interference, the company would have since been declared insolvent, and bankrupt. For decades, the sector has failed to generate enough cash to fund its existence. It relied on subsidies to survive when it was under government control. When the companies were privatized, a framework was established (the Multi-Year Tariff Order) to gradually increase the electricity tariff till it was cost reflective.
Policy flip-flops, changes in key macro-economic indices (exchange rate and inflation), and lack of political will, has meant that currently, what consumers are billed for every unit (kWh) of electricity consumed is less than the cost of producing and wheeling the electricity. The companies who succeeded the government have become adults living on hand-outs.
The tariff structure is just one cause of the liquidity crisis. Corruption, questionable management by the DISCOs, failing infrastructure and a huge metering gap also contribute. For every 10 customers connected to the grid, only 4 or 5 have energy meters. The other half are billed using estimated billing. For every 100 naira of power that was sent to the DISCOs in November 2019, only 26 naira was paid back to the Nigerian Bulk Electricity Trading Company (the financial intermediary between the power generators and DISCOs). NBET in turn remitted 34 naira to the power generating companies (GENCOs). NBET has unsuccessfully relied on loans to stabilize the sector and pay the GENCOs. Aggregate Technical & Commercial Collection losses (which measures the shortfall between value of electricity received and the payment received by the DISCOs) runs into hundreds of billions of naira annually.
With insufficient revenue collection, the GENCOs cannot pay gas suppliers. Coupled with government control on gas prices for the domestic market, gas supply to the power sector is a far less attractive option to gas investors.

Source: NBET market report (https://nbet.com.ng/resources/market-data/); accessed on 31/01/2020.
This liquidity crisis is stalling growth. Investors are reluctant to invest in new power generating plants without risk guarantees from international development banks. Poor funding coupled with poor maintenance culture, has led to weak transmission and distribution infrastructures. Our transmission grid is outdated, suffers from frequent collapse, and needs revamping.
Our installed generation capacity of 14,000MW for a country of over 200 million is very low. Comparing Nigeria with industrialized nations, our potential power consumption capacity stands at 200,000 MW. And with population growth rate of 2.6 percent per annum, this figure will continue to rise. This huge infrastructure deficit is another gap that must be addressed.
Darkness in the Midst of Abundance
The darkness is more worrying considering that Nigeria is blessed with abundant natural energy resources. Nigeria holds the ninth largest gas reserves in the world, estimated at 202 trillion cubic feet. We also have crude oil, coal, and sufficient hydro and solar power.
The inability to transform these resources to lift Nigeria out of the darkness, is hurting our economy. The 2010 Roadmap for Power Sector Reform attempted to quantify the economic impact of Nigeria's power deficit in terms of lost GDP per annum. The authors estimated that by 2020, if available transmission capacity remains at 5000MW, Nigeria could be losing 20 trillion naira per annum. Solving our power problem is a critical enabler to accelerating industrialization and national development.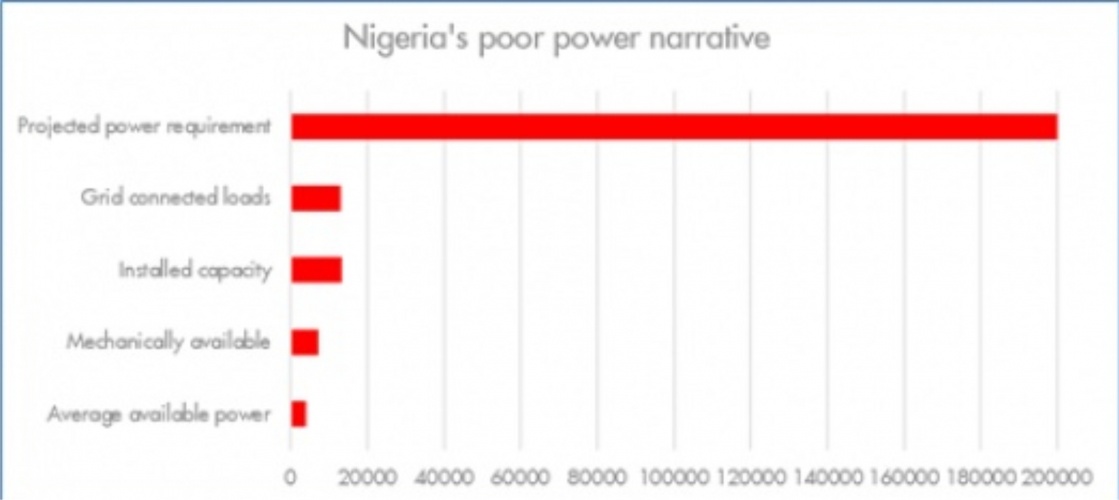 Light at the End of the Tunnel
Granted, there have been pockets of hope. One is the National Independent Power Plants (NIPPs) set up using funds from the Excess Crude Account, which helped develop gas-powered generation plants across the country, leading to a doubling of installed generation capacity over the last decade.
Also, there have been positive strides in the Off-grid power sector driven by the private sector and international development banks. This sector is poised to grow in this decade and beyond.
Please, join me next month as I analyze past and current attempts made at rescuing the power sector; and share some thoughts on the needed paradigm shift that could turn this darkness into light.
•Engr. Odinakachi Umunna is an energy and technology professional with experience in the media industry, public sector, and oil & gas. He can be reached at umunnaodinakachi@gmail.com
Source: News Express
---
Readers Comments
No comments yet. Be the first to post comment.
---
You may also like...