BREAKING NEWS: About 100 feared dead, 50 vehicles burnt to ashes in Lagos traffic fire
Posted by Sunny Okim, Lagos | 28 June 2018 | 13,071 times
•Scene of the explosion. PHOTO credit/Rapid Response Squad Lagos
A conservative 100 persons and equivalent number of vehicles have been consumed in an inferno in Lagos.
An eye witness account has it that the fire incident occurred at about 5 O'clock this evening when a tanker conveying petrol lost balance and fell on the Lagos/Ibadan express way, near Otedola Estate, about one kilometer to Berger bus stop, thereby causing explosion and subsequent inferno.
As at the time of filing this report, the entire expressway was condoned off thereby causing heavy vehicular traffic towards the Lagos end of the old toll gate, while movement of vehicles going towards Mowe/Ibafo (Ogun State) was completely grounded.
Officials of a combined team of the Lagos emergency management agency, Federal Road Safety Corps, Lagos State Fire Service, Lagos State Traffic Management Agency and the Police were busy on a rescue mission and were not ready to make any comments.
But speaking exclusively to News Express, a 15-year old girl, Aisha said she was washing plates in the eatery she is working for located in the premises of the nearby Obat Oil filling station when she heard a deafening explosion.
"I made an attempt to rush out to see what happened but I remembered my madam's little baby who was sleeping on a couch inside the shop. I hurriedly picked up the baby and peeped outside only to see several people burning to death and motor vehicles burnt to ashes in the inferno caused by the explosion. I saw a school bus filled with school children completely razed in the fire. Many motorists who were trapped behind the burning tanker tried to escape but were also burnt to ashes.
"A lady in a salon car with her two children were also burnt to death and are still burning as you can see there."
Aisha and her younger sister Jumai said they were seriously traumatised by the sight of humans and vehicles burnt to ashes.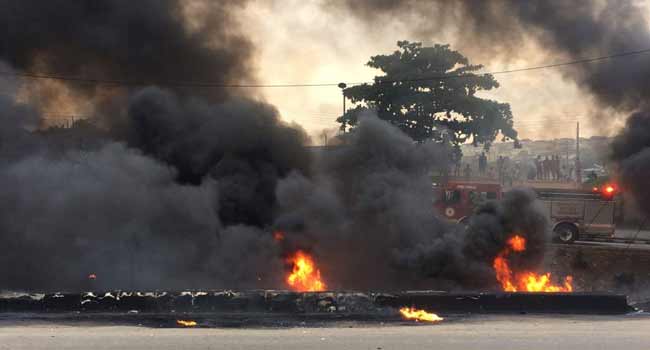 Scene of the explosion. PHOTO credit/Rapid Response Squad Lagos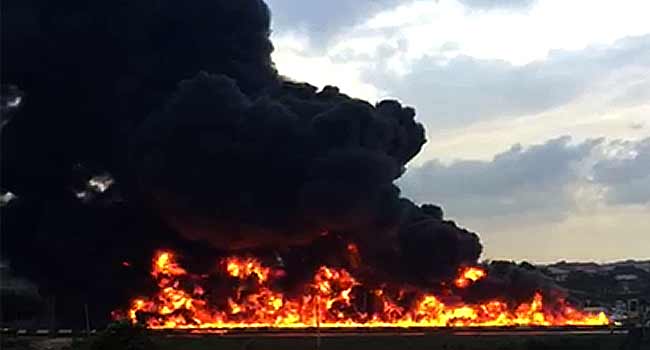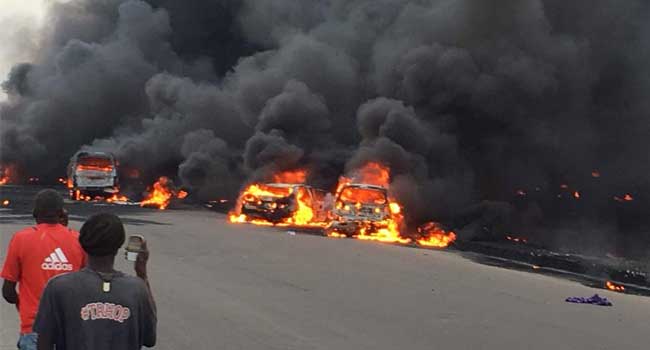 Source: News Express
---
Readers Comments
No comments yet. Be the first to post comment.
---
You may also like...