Governorship aspirant concedes 10 Commissioners, 30 percent of Anambra revenue to godfather
By Mayowa Okekale, Abuja on 25/08/2017
Views: 1,791

•Anambra APC governorship aspirant, Hon. Tony Nwoye
A frontline aspirant in the November 18, 2017 governorship election in Anambra State, Hon. Tony Nwoye, has conceded 10 commissioner slots and 30 percent of Anambra's internally generated revenue (IGR) to his sponsor, Prince Arthur Eze, according to leaked documents.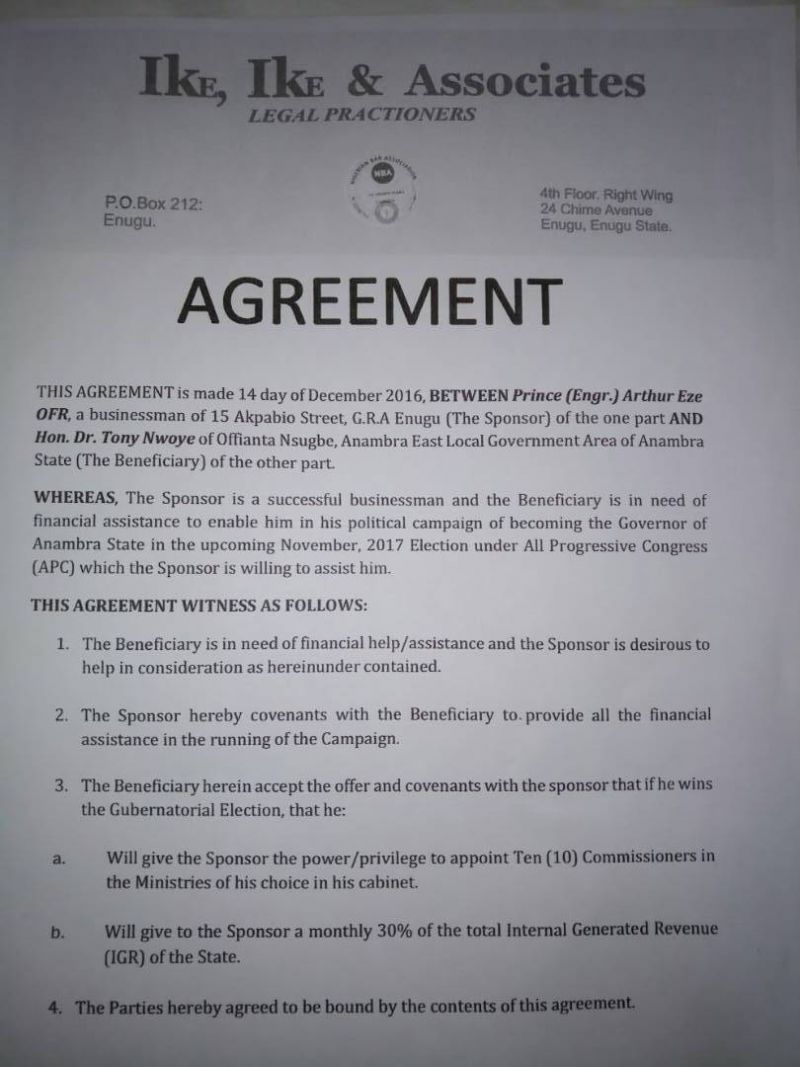 The documents, in the possession of News Express, show that Hon. Nwoye, of the All Progressives Congress (APC), has signed an agreement in this regard with his billionaire sponsor, a well known political contractor.
In the leaked documents, the two parties agreed to Articles of the agreement drafted by an Enugu-based lawyer, due to the level of financial support to be given to Nwoye by Arthur Eze.
Going by the agreement, Nwoye will – if he emerges the APC candidate and eventually wins the election – on assumption of office allow Eze to nominate 10 commissioners, including for choice ministries such as Finance, Justice and Chieftaincy Matters. The oil magnet will, in addition, be allowed to produce local government chairmen.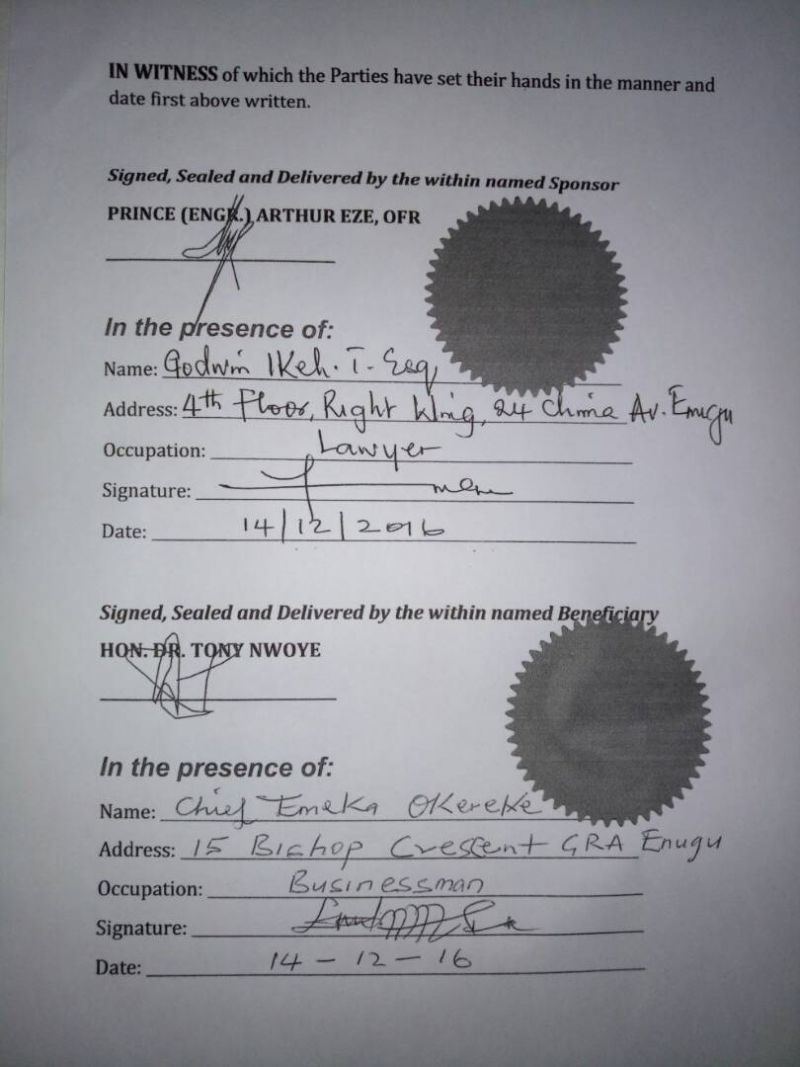 Aside from this, Nwoye also agreed to allocate, at source, 30 per cent of Anambra's IGR to his godfather.
When News Express called Nwoye's line, an aide who picked it dismissed the allegation. He said: "It is not an agreement. Tony Nwoye never signed an agreement with Arthur Eze or anybody else. The document is fake. The address there is not Agbo's address. This is the handiwork of those who do not want the election to be free and fair."
•Anambra APC governorship aspirant, Hon. Tony Nwoye
Source News Express
Posted 25/08/2017 5:42:18 PM
CLASSIFIED ADS
You may also like...

Mortuary attendants 'remove dead woman's heart, chop off...

Liverpool earn €108m for winning UEFA Champions League...

Rivers APC Governorship Primary: Party chieftain, Eze, hails...

Dickson shocks Obasanjo

Edo @ 28: Edo will be great again,...

House of Reps adopts report to establish Petroleum...

What Goldman Sachs is telling high net worth...

RIWAMA warns Private Service Providers against sharp practices,...

Kebbi to establish dry port on Nigeria, Benin...

'Mama Taraba' loses out as INEC declares PDP's...

Special Police Taskforce recovers 51 stolen vehicles from...