What you can learn from Uber, the revolutionary transport firm valued at over $50b (Part 1)
Posted by News Express | 12 September 2016 | 4,945 times
Uber is an on-demand transportation service which has brought a revolution in the taxi industry all across the world. The business model of Uber has made it possible for people to simply tap their smartphone and have a cab arrive at their location in the minimum possible time.
Uber is one of those few tech companies in the world that have been valued at over $50 billion. Uber has already received an equity funding of $8.2 billion and is present in 60 countries. These facts surely show the trust of investors in Uber's business model and make it easy for us to imagine how much revenue Uber will be making once it attains liquidity.
In this write-up, I have highlight some unknown facts and figures about Uber along with a detailed explanation about the model by which Uber earns money and does business. Uber's customer segments, value propositions, key problems, solutions, cost structure and revenue model have also been discussed. For budding entrepreneurs, I have catered to the rise of 'uber for x' startups and what you should be looking for in this space.
Uber Founders, Funding Received and Timeline:
Founders: Travis Kalanick and Garrett Camp
Company Headquarters: San Francisco, California, United States
Funding received by Uber: $8.2 Billion (as of September 2015)
Company Valuation: Over $51 Billion
Number of Users: More than 8 Million (as of 2014 end)
Number of registered drivers: 160,000 (as of Jan 2015)
Number of new driver sign-ups: 50,000 every month
Average number of daily Uber Trips: 1 Million (as of Jan 2015)
The successful timeline of Uber: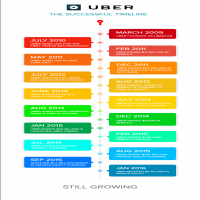 Uber's Revenue Generation Model: If you have ever travelled in a taxi, you might have paid the driver in cash at the end of your journey. The cash collected by each journey is the only source of revenue for a traditional cab company. Uber is no different. Neither does Uber have a different revenue model than the one mentioned above nor it has any other source of revenue as of now. But just imagine 1 million rides a day. It will help you calculate those big numbers that Uber earns. Let's dig a little deeper to understand Uber's source of income.
What has made Uber so successful is the fact that the revenue model of Uber is as unique as their business model. It can be explained as:
Different cab models to cater to everyone: Uber has not limited itself to a particular segment of cars or to a particular segment of people. There is Uber X, Uber Black for those who love to travel in a black car, Uber Taxi for those looking for cost-efficient solutions and Uber SUV for those who want luxury.
Surge Pricing Technology: Variation in cab fares according to situation is an important aspect of Uber's business model. Whenever the demand increases, per mile prices are automatically increased. The new price depends on the number of available drivers and the number of requests made by people who want to travel. Uber has applied for a price surge technology patent in the US.
Other Uber rides: Uber has come a long way from cabs. It now offers boats, helicopters as well as some other transportation means on demand. Uber recently launched a motorcycle-pickup service in Paris, a delivery service in San Francisco, and an ice-cream-truck-delivery service in seven other cities. However, these means are available in selected geographical locations but it has led Uber to add new streams of revenue into its business model.
Salient Features of Uber: A user can tap his smartphone and call a cab at his location. The driver has the option to accept or reject a ride. If driver accepts the ride, driver details are sent to the customer along with ETA. The customer can track the driver as he arrives to his location. The driver can also track the exact location of the customer and reach his exact location. The payment procedure is handled by Uber. In some countries like India, Uber has even started accepting cash payments which are paid directly to the driver. Uber business model had a rating system in place for drivers' right from beginning, where a customer can rate the driver after his ride.
Value Propositions (Benefits/Advantages to Customers): No need to wait for a taxi for long times. Free rides on certain occasions and discounts from time to time. Prices lesser than the normal taxi fares. Uber's tagline says – Your personal driver. It lets customers travel in style. Fixed prices for common places like Airport etcetra.
Benefits/Advantages to Partners: Additional source of income. Flexible working schedules. Can work part time or simply whenever they like. Easy payment procedure. Those who love to drive can earn money while pursuing their hobby. Uber pays drivers to be online, even if they don't get any request.
Customer Segments – Customers for Uber are those who: do not own a car, do not want to drive themselves to a party or function. Like to travel in style and want to be treated as a VIP. Want a cost-efficient cab at their doorstep.
Uber has such a vast customer segment that it has got something on offer for everyone. From Uber Taxis to Uber Black and from Uber X to Uber SUV, the company has got a vast range for its customers to make a choice.
Uber serves professionals as they hire an Uber cab to and fro work. For this Uber did few tie-ups with corporates in the beginning and does so when it launches in a new city in a new country. Apart from professionals, Uber tries to touch hearts of people by offering special services like:
Uber for Kids: A special service from Uber dedicated for parents who want their kids to reach home from school in an Uber cab.
Uber for Senior Citizens: Another special service from Uber where it targets senior citizens. As per the statistics, Senior citizens make for up to 30% to 40% of total rides in many cities. This made Uber have some special features for seniors and hence attract more senior citizens on the platform. Even fortune magazine featured why senior citizens are flocking to Uber.
All this might raise another question in your mind. The question about how does Uber find them or how does it market out to its target audience. Researches have gone beyond Uber business model and came up with an entire growth model of Uber.
We have just begun this discourse, it shall be entrenched in the weeks to come. Send me an SMS/WhatsApp message or call for more details and training opportunities.
•Lawrence Nwaodu is a small business expert and enterprise consultant, trained in the United Kingdom and the Netherlands, with an MBA in Entrepreneurship from The Management School, University of Liverpool, United Kingdom, and MSc in Finance and Financial Management Services from Rotterdam School of Management, Erasmus University Netherlands. Mr. Nwaodu is the Lead Consultant at IDEAS Exchange Consulting, Lagos. He can be reached via nwaodu.lawrence@hotmail.co.uk (07066375847).
Source: News Express
---
Readers Comments
No comments yet. Be the first to post comment.
---
You may also like...