NAMES and PHOTOS: Victims of Texas primary school shooting that left 19 pupils and 2 teachers dead
Posted by News Express | 25 May 2022 | 793 times
•Clockwise from top left: Irma Garcia, Xavier Lopez, Amerie Jo Garza, Eva Mireles, Uziyah Garcia,
Nineteen children and two teachers have been killed after a gunman opened fire at a primary school in Texas.
The attack happened on Tuesday at Robb Elementary School in Uvalde, around 80 miles west of San Antonio.
Salvador Ramos, 18, entered the school after exchanging fire with authorities and having earlier shot his grandmother.
He was eventually shot dead after committing America's deadliest school massacre in nearly a decade.
Ms Mireles has a daughter, was married to a policeman and had been an educator for 17 years, the school's website said.
Irma Garcia's nephew tweeted that "she sacrificed herself protecting the kids in her classroom" and "died a hero".
She was married with four children and had been teaching for 23 years.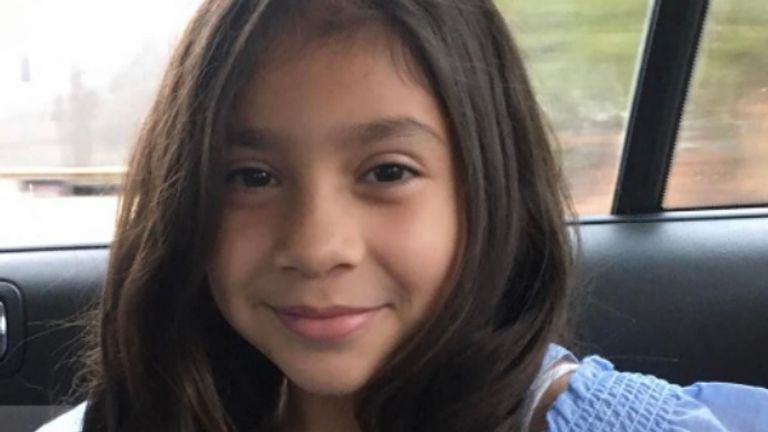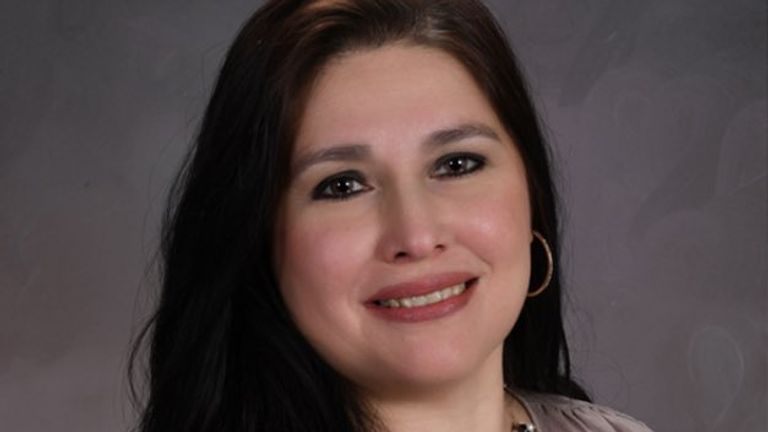 Seven of the students killed have been named as Uziyah Garcia, Xavier Javier Lopez, Amerie Jo Garza, Annabell Guadalupe Rodriguez, Nevaeh Bravo, Rojelio Torres and Ellie Lugo - all aged 9 or 10.
Lisa Garza said her cousin Xavier "was just a loving 10-year-old little boy, just enjoying life, not knowing that this tragedy was going to happen today".
"He was very bubbly, loved to dance with his brothers, his mom."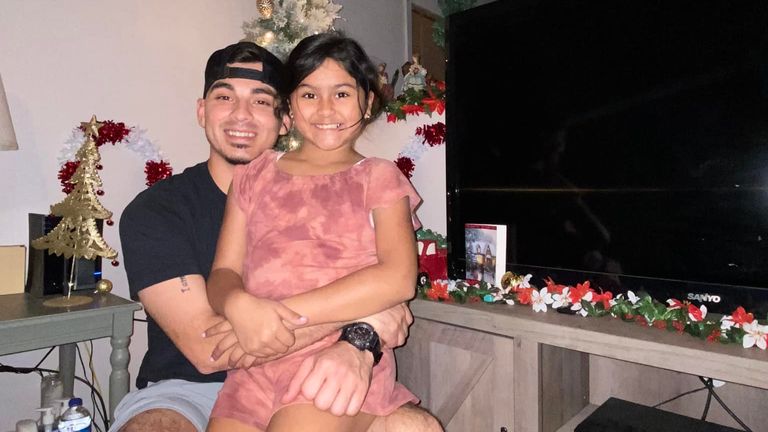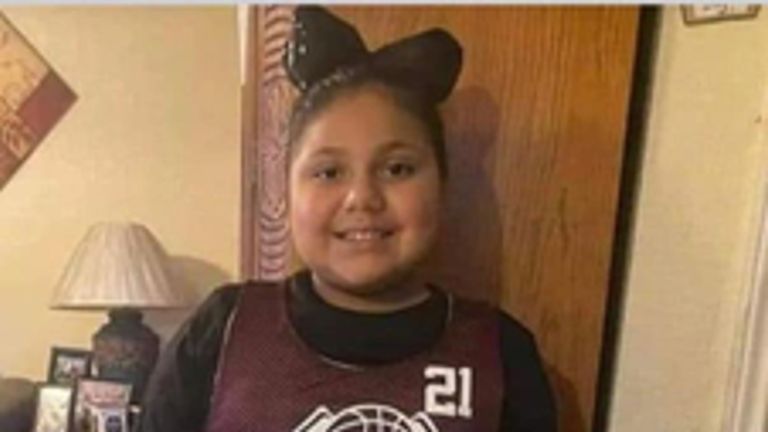 Amerie Jo's father, Angel, posted on Facebook: "My little love is now flying high with the angels above.
"Please don't take a second for granted. Hug your family. Tell them you love them. I love you Amerie jo. Watch over your baby brother for me."
A San Antonio hospital said a 10-year-old girl and a woman, 66, were critical, and that two girls, aged nine and 10, were in a fair and good condition respectively
The gunman shot his grandmother before heading to the school, said Texas senator Roland Gutierrez, but there are conflicting reports on whether she survived.
Read more:
What we know so far about teenage gunman
'Sweetest little boy I've ever known' - The victims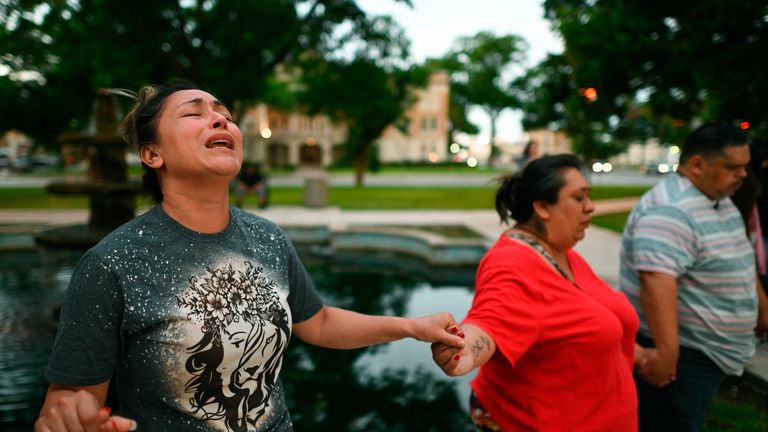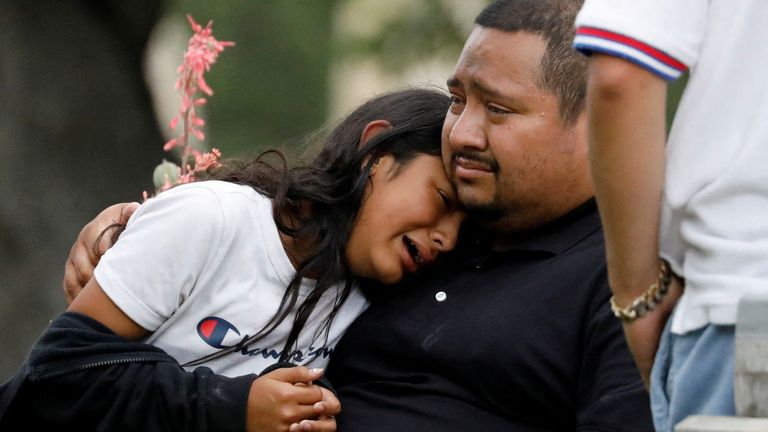 Killer 'suggested the kids should watch out'
Ramos had hinted on social media about an attack and "suggested the kids should watch out", according to Senator Gutierrez, who said he had been briefed by police.
He said the killer had bought two "assault weapons" after turning 18.
The attack began about 11.30am on Tuesday when Ramos crashed his car in a ditch outside the school.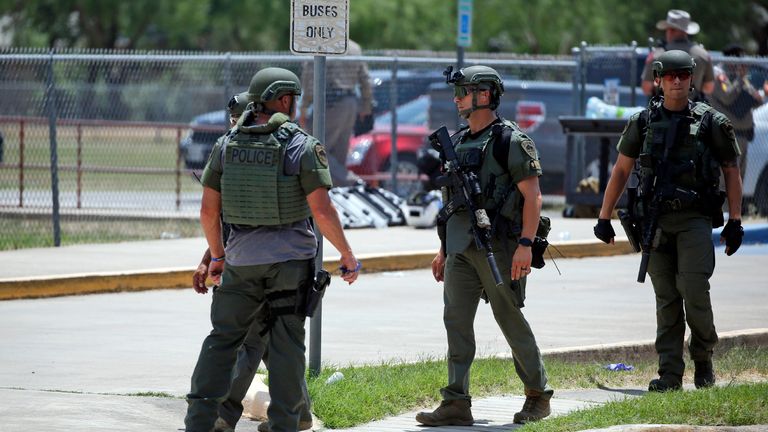 Officials from the Texas Department of Public Safety said he was carrying a "long rifle and backpack" and wearing body armour.
The department's Lieutenant Chris Olivarez said two police officers and a school resource officer initially exchanged fire with the gunman.
The police were hit and received non-life threatening injuries, according to Texas governor Greg Abbott.
However, Ramos was able to enter the building and begin his rampage.
He was eventually killed by a Border Patrol officer who was working nearby and went into the school without waiting for back-up, according to a law enforcement official, speaking anonymously.
They said the gunman was behind a barricade. (Credit, excluding headline: Sky News)
Source: News Express
---
Readers Comments
No comments yet. Be the first to post comment.
---
You may also like...