Elumelu in Jaji, tasks leaders on lasting legacies for coming generation
By News Express on 23/08/2017
Views: 511
The Nigerian military has been applauded for their zeal and commitment towards ensuring the protection of Nigeria's territorial integrity and the fight against insurgency in some parts of the country. The Chairman of Heirs Holdings, Mr. Tony O. Elumelu, gave the commendation while delivering a lecture on Tuesday at the Armed Forces Command and Staff College, Jaji, Kaduna, attended by officers of the rank of Majors across the Nigerian Armed Forces.
Delivering a speech with the title "Leadership: The private sector perspective", Elumelu, while acknowledging the pivotal being played by the military, said that the military institution has contributed immensely to the unity and peace in the nation. According to him, the development of any nation is assured by the quality of its armed forces among other public institutions. "The Nigerian Military gives us hope in this country. The facilities I see here are comparable to any I have seen in Europe and the US," Elumelu said.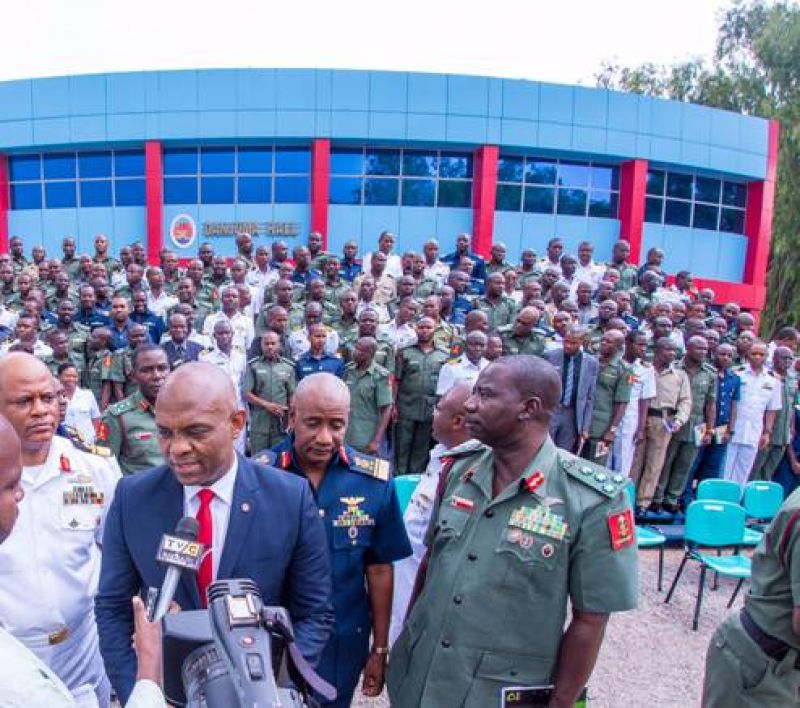 While sharing his thoughts on leadership in the private sector, Elumelu stated that there is no difference between private and public sector leadership, rather, the focus of leaders should be on mapping out a vision and mobilising people to fulfil the vision. " The public sector leaders, likewise their counterparts in the private sector must understand that to succeed in business or public service, they have to lead well. Leaders who succeed are those who think legacy," Elumelu affirmed.
He further reiterated the responsibility of leaders to galvanise change and development, charging those present to think of leaving a lasting legacy behind for generations to come "to prove to the world that this is not a wasted generation'.
Elumelu's speech affirms his stance of the private sector taking a more proactive role in the development of Africa, embodied in his philosophy called Africapitalism. He encouraged the students to become leaders of purpose as leadership is not by accident, rather, leaders are made. "People do not buy into a vision they do not understand; they buy into a vision and mission that resonate with them," he said.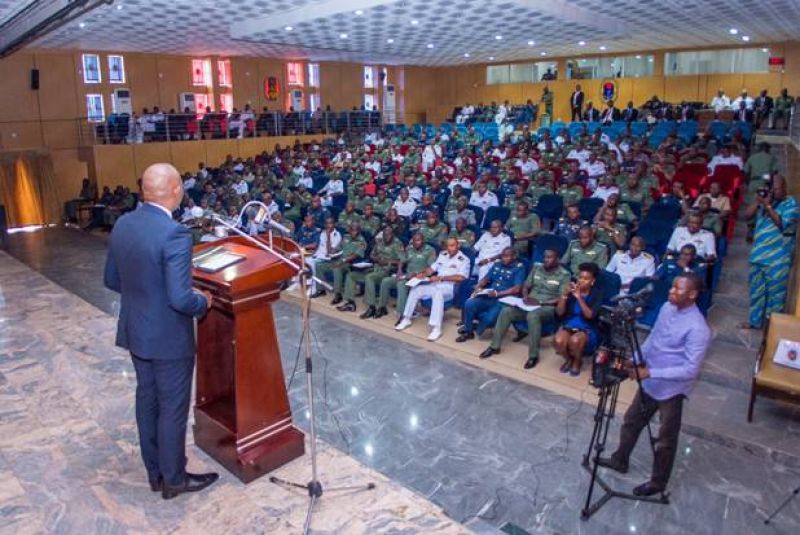 Responding to the speech, the Commandant of the Armed Forces Command and Staff College, Air Vice Marshal Suleiman Abubakar Dambo appreciated Elumelu's perspective on leadership. "We are delighted to have in our presence an embodiment of knowledge, visionary leadership, and above all, an encyclopaedia of leadership," he said.
"I agree that leaders are made not born. Otherwise, how do you explain an individual having a conglomerate, multi-national corporations in 20 African countries and doing very well in those countries, in so many sectors ranging from the financial sector, oil and gas, real estate, and so on?" he asked.
The Commandant concluded by appreciating Elumelu's generosity in sharing his leadership knowledge with the students of the college.
•Photo shows Chairman, Heirs Holdings and Guest Speaker, Mr. Tony Elumelu (middle); Commandant, Armed Forces Command and Staff College, Jaji, Air Vice Marshall Suleiman Abubakar Dambo ; and Deputy Commandant, Armed Forces Command and Staff College, Jaji, Rear Admiral Ifeola Mohammed ), flanked by the course participants of the Senior Course 40 of the Armed Forces Command and Staff College, during the Guest Lecture Series of the College where Elumelu delivered a paper titled "Leadership: Private Sector Perspective", on Tuesday in Jaji, Kaduna.
Source News Express
Posted 23/08/2017 12:30:16 AM
---
CLASSIFIED ADS
Loss Off Your Belly Fats, Upper Arm Fat and Body Fats In 2weeks Time.. Click HERE To Start Now!
Let us build the most comprehensive online database of worthy and credible Nigerians from all walks of life. It is worth doing!
You may also like...

Fayose to Buhari: Listen to Nigerians, there's too...

David Aiyedogbon VS Emeka Ugwuonye: Court adjourns to...

Environment Ministry begins tour of flood-prone states

31 prison inmates receive WAEC certificates

Driver, gateman kill ex-varsity VC, vanish with SUV...

NIMASA, Navy move to enhance maritime safety and...

APC adopts Gbajabiamila as sole candidate for House...

It will be a day of thunderstorms, with...

Mercedes-Benz Viano hits Nigeria's auto market

Navy deploys security stations, gunboats to Niger Delta...

One million bank accounts abandoned over corruption