Presidency photos confirm Buhari's sickness
By News Express on 09/02/2017
Views: 3,213
Yet another attempt by The Presidency to prove that President Muhammadu Buhari is "hale and hearty" – as repeatedly claimed by government officials – produced the opposite result.
The two photos released late Thursday showed President Buhari with two leaders of the ruling All Progressives Congress (APC) at Abuja House, London, according to The Presidency.
Buhari is seen looking sick, emaciated and weak in the photos in which he is seen with APC National Leader, Asiwaju Bola Tinubu, a former governor of Lagos State, and one-time National Chairman of APC, Chief Bisi Akande. The three men are seen standing in one of the photos and seated in the other. The photos, released from the official Presidency Twitter account and also promoted via Facebook by Presidency officials, show Buhari looking a shadow of his former self. Those familiar with the outlook of cancer patients said the Nigerian leader looked like one in the two photos.
Buhari left Abuja took ten-day vacation in January, which he said he would spend in London and during which he would "undergo routine medical check-ups". He was to resume work on February 6 but wrote to the National Assembly, informing it that he has extended the vacation indefinitely on the advice of his doctors.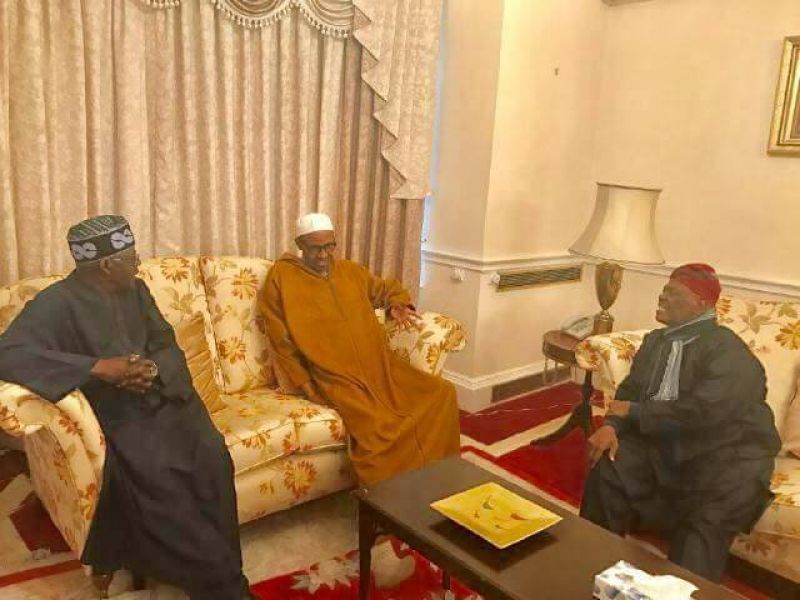 The Presidency has released series of photos showing the Nigerian leader receiving guests but each of the photos ended up stoking more controversies amidst rumours of Buhari's purported death.
Buhari failed to show up to address anxious Nigerians who demonstrated at the Nigerian High Commission in London on Monday, demanding that he addressed them. He has also failed to appear in a video or on TV – or even to speak to Nigerians but selected government officials and Buhari's relatives routinely claim that they spoke with him.
The latest of such claims was made by the Speaker of the House of Representatives, Rt. Hon. Yakubu Dogara, who said that Buhari called him on Wednesday evening.
The President reportedly called the Speaker at around 9pm evening and the two leaders spoke for five minutes.
Special Adviser on Media & Public Affairs to the Speaker, Mr. Turaki Hassan, said: "As the Rt. Hon. Speaker tweeted via his official twitter handle @YakubDogara, Mr. President called him at around 9pm Wednesday evening and they spoke for about five minutes.
"They discussed many national issues including ways of ensuring food security for Nigerians.
•

Photo shows President Buhari in London, flanked on the left by Asiwaju Tinubu and on the right by Chief Bisi Akande.
Source News Express
Posted 09/02/2017 10:09:09 PM
---
CLASSIFIED ADS
REVEALED: 3 natural ways to get stronger erections, last 25minutes on bed, and increase manhood size without using drugs. Also, Natural Prostrate Enlargement Remedy.. Get In HERE...
You may also like...

Lagos suspends investigation into Synagogue tragedy •TB Joshua...

Breaking News: Police seal off NICON Hotel, Abuja,...

Ex-militants raise alarm as foreigners invade Niger Delta...

2018 Budget: Living on borrowed time

Sympathisers besiege Tinubu's house over son's death

Boko Haram fighters flee Sambisa Forest stronghold as...

Countdown to Aug. 9 Osun guber election: JEGA,...

EFCC files 17-count charge against Fani-Kayode over alleged...

Bayelsa Govt. restructures N50bn bond repayment, plans massive...

Health: Abia receives medical equipment and supplies from...

CBN injects another $100m into Forex market •Vows...