What will you do for your loved one in this season of love?
By News Express on 02/01/2017
Views: 1,051
#ThingsWeDoForLove
You love your partner unconditionally and you're thinking of what to do for him or her this Valentine? You're confused about what she wants? Whether he's going to like it or not? You don't have to worry too much because the internet has been buzzing with what people have done for their loved ones in the past and it's interesting to read. Maybe this will give you some inspiration.
Check out some of them below: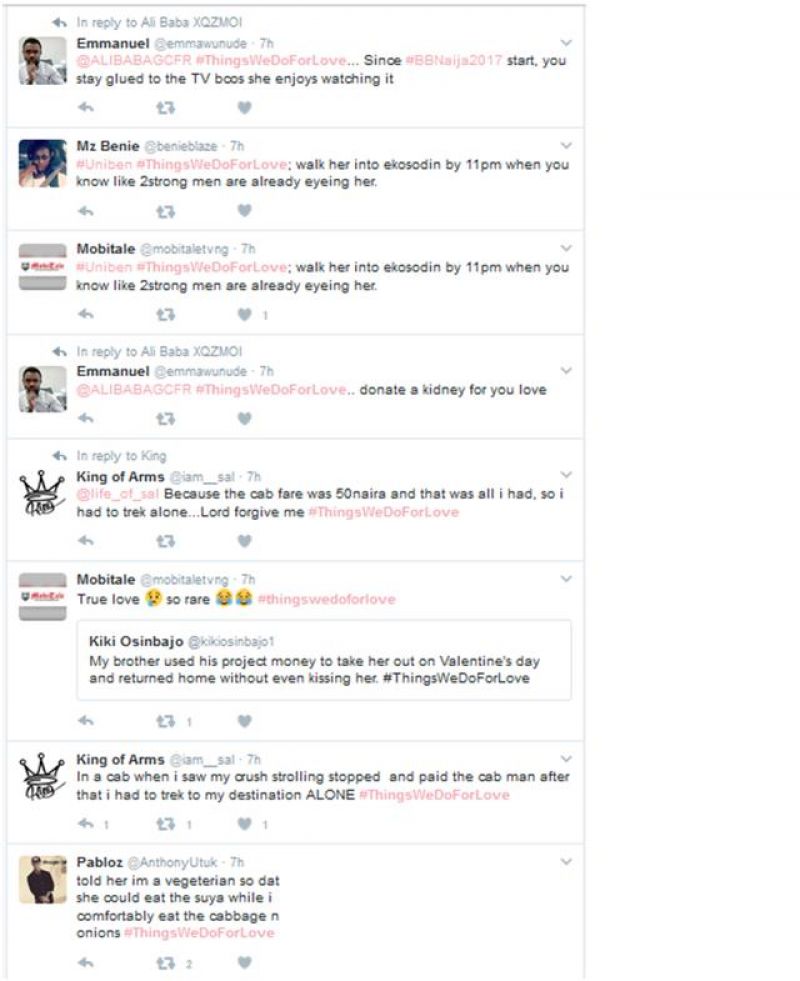 Still not convinced about what to do? Here are some tips on things you can do for your loved one/s this Valentine. #ThingsWeDoForLove
Take him or her on a date to the beach.
You can go to an exclusive romantic destination like Paris or The Caribbean.
Stay at home, cook your best meal and enjoy a movie with Bae.
Go on a boat ride.
Drive around with your partner and show her places she hasn't seen before in your city.
You can still check out some fun suggestions from #ThingsWeDoForLove or simply go on Twitter to follow the conversation.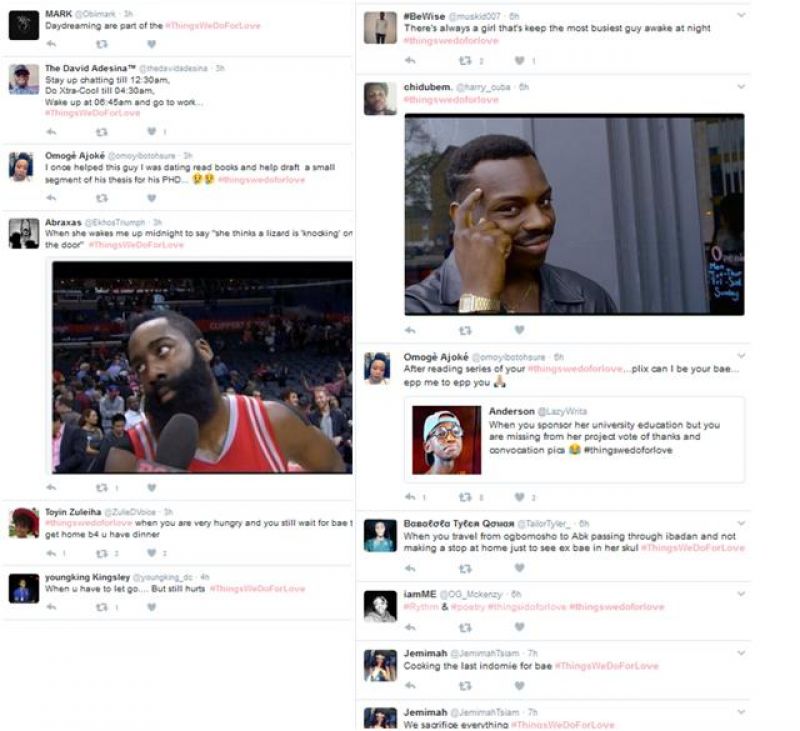 Source News Express
Posted 31/01/2017 07:05:26 AM
---
CLASSIFIED ADS
Let us build the most comprehensive online database of worthy and credible Nigerians from all walks of life. It is worth doing!
Loss Off Your Belly Fats, Upper Arm Fat and Body Fats In 2weeks Time.. Click HERE To Start Now!
You may also like...

Ogun Assembly intervenes in govt.-labour face off

Governor Udom Emmanuel appoints Akpabio's aide SSG •Heads...

Umahi canvasses law for tolling of FG roads...

Toyota to recall nearly 7m cars •Faults discovered...

Dreaded gang storms Imo High Court, frees kidnap...

Abuja Technology Village: Group invokes FOI Act

Senate passes Nigerian Peace Corps Bill

Jehovah's Witnesses move to rescue Nigerian languages

Uduaghan bemoans Nigerians' attitude towards elections

RIGHTSView, By EMMANUEL ONWUBIKO: As Obama's job becomes...

Murder in the Cathedral