What will you do for your loved one in this season of love?
By News Express on 02/01/2017
Views: 1,705
#ThingsWeDoForLove
You love your partner unconditionally and you're thinking of what to do for him or her this Valentine? You're confused about what she wants? Whether he's going to like it or not? You don't have to worry too much because the internet has been buzzing with what people have done for their loved ones in the past and it's interesting to read. Maybe this will give you some inspiration.
Check out some of them below: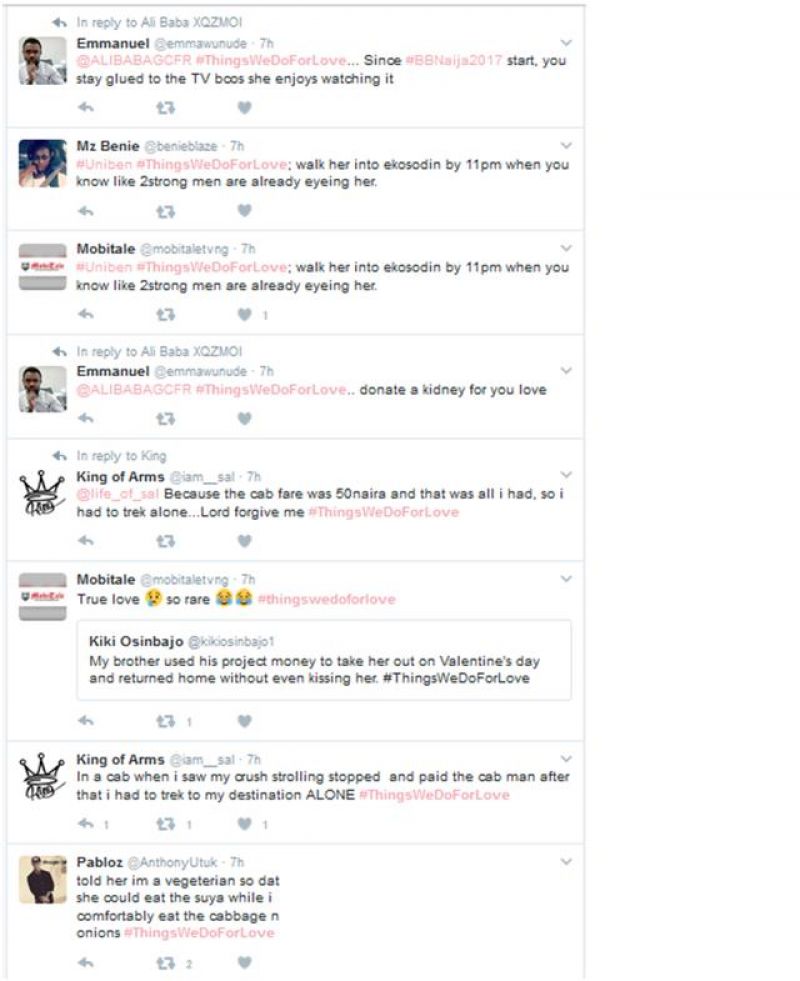 Still not convinced about what to do? Here are some tips on things you can do for your loved one/s this Valentine. #ThingsWeDoForLove
Take him or her on a date to the beach.
You can go to an exclusive romantic destination like Paris or The Caribbean.
Stay at home, cook your best meal and enjoy a movie with Bae.
Go on a boat ride.
Drive around with your partner and show her places she hasn't seen before in your city.
You can still check out some fun suggestions from #ThingsWeDoForLove or simply go on Twitter to follow the conversation.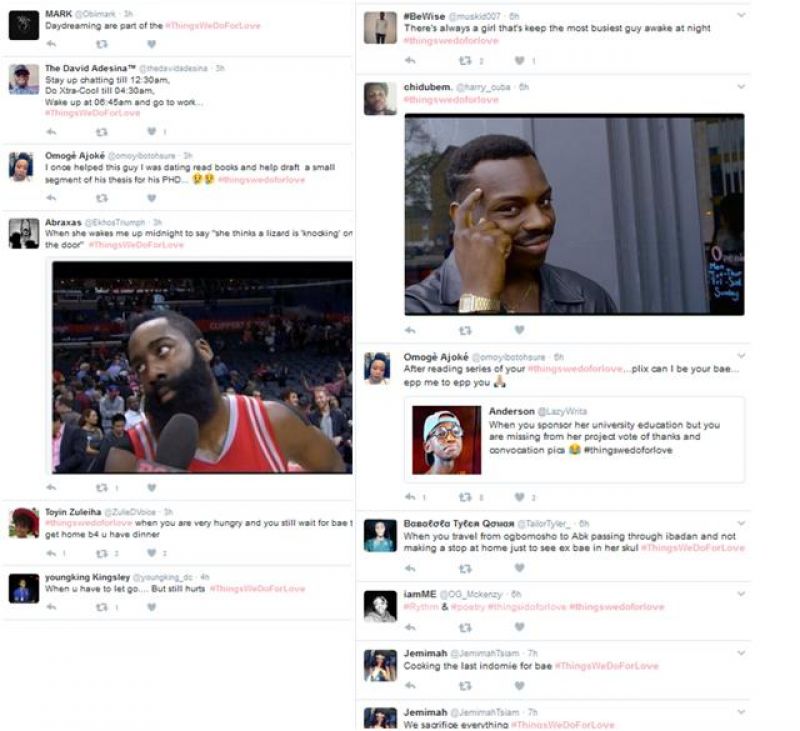 Source News Express
Posted 31/01/2017 07:05:26 AM
---
CLASSIFIED ADS
REVEALED: 3 natural ways to get stronger erections, last 25minutes on bed, and increase manhood size without using drugs. Also, Natural Prostrate Enlargement Remedy.. Get In HERE...
You may also like...

15 policemen escape death as herdsmen attack Olu...

Wabba attributes incessant strikes to disrespect for collective...

Senate cries out over daily loss of 2,300...

MOSOP condemns assassination of former lawmaker, 3 others,...

Senate committees get 7 days to submit budget...

Dangote Cement's N144.8bn dividend delights shareholders

How Air Force plane crashed: NAF Spokesman

In defence of Buhari's proposed $30bn loan, By...

It will be a sunny Tuesday, partly cloudy...

Why we voted N3.8bn for State House Clinic...

Umeh, Obiano not working for Jonathan's re-election, says...